Leave a comment
December 31, 2016 by Ayman Fadel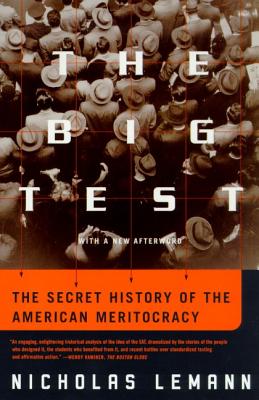 *** We are meeting at the Headquarters Library 3rd Floor Meeting Room. Turn from the stairs or elevators towards the Georgia Room. Walk past it, go all the way to the end of the corridor and the room is on the right. The address is 823 Telfair St, Augusta. ***
February 23, 2017, 10 am is the time.
The Big Test: The Secret History of the American Meritocracy by Nicholas Lemann
What do we know about the history, origin, design, and purpose of the SAT? Who invented it, and why? How did it acquire such a prominent and lasting position in American education? The Big Test reveals the ideas, people, and politics behind a fifty-year-old utopian social experiment that changed this country. Combining vibrant storytelling, vivid portraiture, and thematic analysis, Lemann shows why this experiment did not turn out as planned. It did create a new elite, but it also generated conflict and tension—and America's best educated, most privileged people are now leaders without followers.
Drawing on unprecedented access to the Educational Testing Service's archives, Lemann maintains that America's meritocracy is neither natural nor inevitable, and that it does not apportion opportunity equally or fairly. His important study not only asks profound moral and political questions about the past and future of our society but also carries implications for current social and educational policy. As Brent Staples noted in his New York Times editorial column: "Mount Holyoke College in Massachusetts announced that prospective students would no longer be required to submit SAT scores with their applications. . . . Holyoke's president, Joanne Creighton, was personally convinced by reading Nicholas Lemann's book, The Big Test, which documents how the SAT became a tool for class segregation."
6 copies in Pines